* During Spring Moonbabies has also been busy playing live in Sweden. Marcus Weitner, has been included as guitarist on several shows, which makes him the new member of the "Live-concert" version of the band. One of the concerts were captured on tape and is available to download here!. Apparently one of the audience were getting the particular concert on videotape, so hopefully their will be some Quick-Time movie-files up on this site as well.


*
Måns Wieslander has released his debut album "Twin Piloda" out in the stores in June on Payola Records/BMG, which features both members of the moonbabies. Ola has helped out co-producing and mastering the album as well as playing percussion and occasional drumpatterns and loops. The sweet "Free Toys" also features Carina on harmony vocals. Interested people can contact the man himself or visit his website. http://piloda.tripod.com


* AUTOreverse, the ever so lovely resource of new exiting underground music, will have a special feature on moonbabies, in the upcoming issue (Eleven). Apart from a lengthy interview with Ola, there will be a special AUTOreverse moonbabies session for download at their website, which the band recorded 4 live tracks exclusively for this occasion. Visit the AUTOreverse website to get it. www.autoreverse.net
13-3-2000 2 great compilations has been released by the ever so brilliant Seattle-label Duckweed records. "Duckweed Sampler 2000" and "Global Lo-Fi Underground 3" which includes tracks from Moonbabies, Bill Foreman, Grenade, Moloch, Pointy Birds and lot of other great bands, can be ordered through the official Duckweed Records web-site.
---
Moonbabies are the Zeitgeist award winner

for the Jan-Feb issue of the Scottish Zeitgeist ´zine Hooray! Here's the review, eve

rybody:
MOONBABIES - Air>>>Moon>>>Stereo EP (Moonkrack / Duckweed)
Tracks; 1. Have You Ever Said Goodbye 2. A Brand New Coat 3. Starlet 4. Slowmono

There is nothing finer than a 7" single. To me it is the ultimate art form. And here's a perfect example. Music that takes on an ethereal dynamic all of its own. You can almost touch it. Across 4 tracks the Moonbabies stake their claim to being one of that select band of artists who salve your soul and touch you in the innermost recesses of your mind. There's hints of psychedelia, a smidgin of Love, part Moby Grape, Belle & Sebastian and even Pooka. Acoustic without ever being twee this is the Zeitgeist award winner for February 2000. One listen to "Have You Ever..." and you'll know why.
---
And for last the moonbabies debut album will soon be out. The band has just finished putting together the CD which will be out in the later part of April. More indepth details about this recording will be added to the news page in a couple of weeks.
---
21- 2 - 2000
A new page with live reviews has been added to the moonbabies web-site. The page will in the future also contain information about upcomming Liveconcerts, Videoclips and live pictures. Go and check it out.
---
New York cassette-label looking for contributions for a tapecompilation
. A Bouncing Space has allready put out a handful of interesting releases and are currently looking for contributions for a compilation, which is planned to be out this Fall. Moonbabies will be one of the many included bands, and will contribute with a brand new recording. A Bouncing Space has a goodlooking website with Label-info, Links and RealAudio clips
---
14 - 2 - 2000
This week's clip is up A totally new recording, which will be included on a CD compilation and perhaps be included on the full-length CD, which will be released by Duckweed Records
---
12 - 2 - 2000
Tonight on P3 (Swedish Radio) It just came to our knowledge that Ian Broadie (The Lightning Seeds) will make his comments on our song "I'm Insane but so are you" on P3's radioshow Demo. Tonight at 7 p.m. you'll get a chance to hear his own words.
---
11 - 2 - 2000
The website has received a major facelift The website has just been redesigned and improved. A totally new layout on all these pages: links clip of the week contact/order discography - official releases and finally discography - demos
---
7 - 2 - 2000 New
"Clip of the week" is up A quite special demo version has been chosen as this week's featured song. Go to listen to it - Please don't forget to rate it
---
The Gig at KB:
Even if everything that possibly could go wrong with the electric guitars on stage really did go wrong, the gig turned out really great. Moonbabies played about a 25 minute gig and the public response was good. Got quite good reviews in the Swedish newspapers. We'll soon put out some quotes from those reviews, plus we'll probably feature a livesong from that concert as the next week's Clip of the week.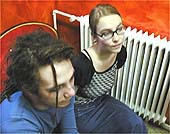 Ola and Carina backstage right after the gig at KB last Saturday. Photo:Frida Eklund
---
31-1-2000 Moonbabies Live on KB
(Kulturbolaget) in Malmö, Sweden this Saturday. This week Malmö (where the 'babies call home) will be the centralpoint for musicmedia with a lot of live-concerts, radiobroadcasts and a lot of other activities. It goes under the name Popstad 2000 and on Staurday the 5th of February Moonbabies will perform at KB (Kulturbolaget) 4 p.m. This Monday (31/1) Musikjournalen Pop P3 (led by the charming hostess Helena Jönsson) will do a special on Popstad 2000, and most definitely play some Moonbabies. Don't forget to tune in (if you live in Sweden, Denmark or Norway that is) at 10 p.m.
---
26-1-2000
The Story page and Listening room has been re-designed.
---
21-1-2000 Duckweed Records at MP3.com
We're all of course waiting for the Duckweed Records new compilation CD's "Duckweed Records sampler 2000" and the 3rd volume of "Global Lo-Fi Underground", which both will feature Moonbabies tracks. But in the meantime you can go to the brand new MP3 page and download songs from various Duckweed bands, such as Grenade, Bill Foreman and Moloch.
---
Short info:
A track on a CD promo and page update A Cd promotion compilation from Popstad 2000 has been released, featuring Moonbabies "I'm Insane but so are you". Also, the Discography page has been redesigned and updated.
---
6-1-2000
Two new pages are up A collection of reviews in Swedish and American publications are up on this page; REVIEWS Also a large interview and article from "Too Broke too Rock" can be read on this page: INTERVIEW
---
5-1-2000 THE MOONBABIES HOMEPAGE IS FINALLY UP!!!
Yes, the webpage is finally up and It's filled with sounds, pictures, news, reviews, and a discography/biography section. The webpage has a special "Clip of the week" page, which will feature either a new song, a live song, a demo version, a cover version etc. The MP3 clip of the week will only stay on the page for a week and then to be changed (every monday). This week's featured clip is a brand new song recorded during christmas. http://moonbabies.tripod.com/clipoftheweek.htm Suggestions and/or comments about the new webpage are more than welcome.
---
AN ITALIAN MOONBABIES COMPILATION OUT NOW
A 24-song compilation cassette entitled "Climbing up these miles" has just been released by the wonderful Italian tapelabel Best Kept Secret. "Climbing up these miles" takes off where "Sweet Morning Themesongs 1996-99" (A moonbabies compilation Sean Padilla and his Tangerine Tapelabel released last summer) ended. This tape presents 5 songs from early demotapes, 12 songs from the 1999 releases "five fresh tunes from the...", "12 DEMO 1999" and the vinyl 7" "air>>>moon>>>stereo e.p." and 7 previously unreleased songs.
---
NEW RELEASES
Things are floating and quacking over here in Sweden at the moment. Some recordlabels have shown interest in our music, and by the first half of ´00, 1 full-lenght CD, 5 compilations and a 7" vinyl single will most likely be released in Japan, USA, Sweden and England. We're of course very excited about all of this and will bring you reports on further details in the near future.