PICK OF THE WEEK



[21 March 2001] The US zine Delusions of Adequasy wrote:

"Who knew the next hotbed of indie rock would be in Sweden? Well, if that country is about to take the world by storm, it will be Moonbabies leading the revolution.
This album blew me away, causing me to repeat this album time and again, and each time I found a different song to cherish, a different quality that sets this duo apart..." Featured as the Pick of the week, read the whole review of June and Novas here.

Delusions of Adequasy will follow up with a interview with moonbabies within the next weeks.

NEW PIX



[10 March 2001] Brand new pictures of the band has been posted in the Picture Gallery. Staffan Wieslander, the photographer did a very good job, thanks a lot. Click here for the new pix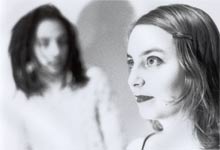 ALBUM OF THE YEAR



[10 Feb 2001] "June and Novas" was recently voted the #1 album of 2000 at the dreampop forum & radio station Blisscent! http://groups.yahoo.com/group/Blisscent/

Blisscent's Top 25 Of 2000

25. Trembling Blue Stars- Broken By Whispers
24. Brincando De Deus- S/T
23. Color Filter- I Often Think In Music
22. Moose- Migh Ball Me
21. Lilys- Selected
20. Cush- New Sound
19. Air Formation- S/T
18. Northern Picture Library- Still Life
17. Mahogany- The Dream Of A Modern Day
16. Sixteen Deluxe- Vision Take Me, Make Me, Never Forsake Me
15. Isobella- Akasha
14. Electro Group- A New Pacifico
13. Malory- Not Here, Not Now
12. Six By Seven- The Closer You Get
11. Sway- S/T
10. Aerial Love Feed- S/T
9. Doves- Lost Souls
8. Mean Red Spiders- Stars And Sons
7. Mellonova- S/T
6. Sunstorm- S/T
5. Skywave- Echodrone
4. All Natural Lemon & Lime Flavors- Straight Blue Line
3. Aisler's Set- The Last Match
2. Autumns- In The Russet Gold Of This Vain Hour
SHORTS



[8 March 2001] The discography page has been updated with more info on all the CD, EP and compilation releases. The links page has been updated.

More gigs has been booked for the moonbabies US tour in 2001. Among them concerts at the Crocodile, Sunset and Paradox - all located in Seattle. Dates will be posted soon.
Also, Moonbabies has been given their own page at the excellent ALL MUSIC GUIDE site. please visit and post your comments. Click here for Moonbabies @ All music Guide


NEW INTERVIEW POSTED



[7 March 2001] Click here to read a short interview with Carina and Ola published in Groove Magazine recently. (swedish only, sorry) Click here

It is now also confirmed that Moonbabies will play an instore performace at Ozone Records in Portland, Oregon, at 4 pm on Saturday, May 5th.


WHAT'S UP???



[12 Feb 2001] A 4 track CD EP (title to be annouced) will be released in the USA in April / May. This E.P. will be feauting the album track "We're Layabouts" + 3 previously unreleased songs. A Video for "We're Layabouts" is also under discussion.

Moonbabies have also started to work on a follow-up album, which will possibly be released in the winter of 2001 or early 2002.
ALBUM UPDATES



[20 Jan 2001] Duckweed Records is pleased to announced that Shellshock Records of London will be distributing the Moonbabies album June and Novas as of February 2001. Record stores wishing to order this release may do so by contacting NAIL Distribution (USA) or Shellshock Records (Europe), or ordering straight from Duckweed Records (email us for wholesale rates).

We're down to our final copies of the original pressing of the June and Novas CD. The original version contains a 16 page full color booklet. The re-pressing of June and Novas will have a 6-fold sleeve in place of the 16 page booklet, remixed versions of the track "Count Stars >>> Be Patient". Stay tuned for further info.
AMG REVIEW


[16 Jan 2001]
AMG (allmusicguide) www.allmusic.com recently published a review of moonbabies' June and Novas.


"Sporting a sophisticated and intelligently crafted sound, the Moonbabies' debut is an absolute modern pop success. Featuring studio-smart pop production, this Swedish duo injects electronic textures, drum loops, and various effects into the seemingly straightforward pop sensibilities. Sometimes coming off as a combination of the easygoing aesthetic of Toad the Wet Sprocket and the meticulous sheen of Garbage, this band provides a multi-pronged attack, bouncing from driving rock to moody musical interludes. As both Carina Johansson and Ola Frick share the songwriting, instrumental, and vocal duties, many sounds and moods are evoked, from the out of control (and tune) sprawl through the grungey "My Buddy Buddy" to the soft acoustic guitar coda "Winter Broken Time." Still, the majority fall in between, with Frick building many arrangements on top of his shimmering guitar hooks and using various atmospheric production tricks to create a densely enveloping sound. Overall, an impressive marriage of traditional indie pop and modern electronic production." - 4 out of 5 stars Matt Fink, AMG
ROLLERDERBY SUPERSTAR


[16 Jan 2001] In the first issue of Rollerderbysuperstar zine you can read an article about moonbabies upcoming US tour. The first issue also includes articles like "Subjected to Sound", "Being Steve Malkmus" & "Todd's emo-torial". It doesn't get much better than this, a great zine with a delicious design http://rollerderbysuperstar.com/

KOMAKINO INTERVIEW


[14 Jan 2001] Komakino Interview and Article he Italian DIY fanzine Komakino recently published an interview and article on moonbabies. Previous interviews include bands such as Brittle Stars, Fugazi and Make up. Check it all out friends! read it here
NEW 7" VINYL


[7 Jan 2001]A nice looking white vinyl (1000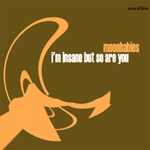 copies limited edition) release from the UK label Sur La plage. This 7" contains the poppy track "I'm Insane but so are you" plus the previously unreleased B-side "Happy when smile". Early versions of this songs can be found on the past cassette compilations Sweet Morning Themesongs and Climbing up these miles. This 7" will be released and distributed in Japan and the UK only.
[11 Dec 2000]

New MP3 "City Walk" avaliable
Another track from June and Novas "City Walk" is now avaliable for free download at mp3.com.
just click here!

Swedish press
We have the pleasure to let you know, that when the swedish newspaper Sydsvenskan recently announced the best albums of 2000. Moonbabies "June and Novas" was to included as one of the 5 best albums. Journalist Håkan Engström declared that moonbabies were "heading for the stars".
Click here to read his review of June and Novas

Compilation
Blowfish music sampler is a cd-rom containg 19 songs and 2 videos from 12 different alternative rock/pop bands. The price is $2+shipping and features moonbabies, as well as J Mundok, Grenade, Strange Radio, Greenland and many more.
Visit their website for more info on this project

Interview
Read an interesting interview Leonard Ives from Indieport did with Carina and Ola about 2 weeks ago. Indieport.com is a on-line radiostation, focusing on broadcasts of new exiting independent bands as well as reviews, articles and interviews.
www.indieport.com


[29 Nov 2000]

AUTOreverse Interview
This summer the american fanzine AUTOreverse graced their front cover with moonbabies + a 5 page article/interview. Now you can read the full interview with Ola & Carina online.
just click here!
New review of June and Novas
Read Leonard Ives (indieport.com) insightful review of moonbabies' June and Novas. Quote: "To Master Stockhausen and other interested parties (retired or alive): I would like to bring to your attention a couple of young artists residing in Malmo, Sweden. Ola Frick and Carina Johansson, a.k.a. the "moonbabies," deal in the trade of techno-pop with a distinct minimalist twitch...//... Our young Swedes break a lot of new ground, using technology as an expressive tool. Think of how Pink Floyd took a wattage-crazed guitar and used it as the ultimate liberation of the blues."
click here to read the full review

[11 Nov 2000]
What's up?
The moonbabies website has been updated and re-designed. Carina and Ola are currently busy rehearsing material for upcoming shows.
Playlists updated!
[8 Nov 2000]

Shining Sun Remix
A new spooky, experimental remix of the track "Shining Sun" can be found at moonbabies new page at IUMA.com. If you want to hear it click here


[6 Nov 2000]
Distribution
Things are going very, very well over in USA as well. After much hard work, Duckweed Records (who are releasing the "June and Novas" album) have found us a partner. NAIL will distribute the album in US.
http://www.naildistribution.com
[6 Oct 2000]

Updates
The members personal playlists can be found here
The guestbook has also been updated

Come here (express yourself)
A brand new recording is now avaliable at moonbabies mp3.com page - The members personal playlists can be found here - The guestbook has also been updated


The new AUTOreverse
AUTOreverse [eleven] issue is out now - which features a lenghty interview with moonbabies. A fanzine that always worth checking out. www.autoreverse.net


"June and Novas" updates
The album has recieved brilliant reviews in magazines & newspapers since it's release in June, and several songs has been broadcasted on radio in the UK, US, Australia, Germany, Sweden & Denmark. The band will play both US and Scandinavian gigs to support & promote "June and Novas" in autumn 2000/spring 2001.


I'm Insane but so are you
In December "I'm Insane but so are you" will be released in Japan /UK on 7" vinyl by the UK label Sur la plage/Atom Records.


Compilations to look forward to
Moonbabies will appear on some compilations this autumn, among them "Lunch with a bouncing space vol.2" A Bouncing Space, US & Blowfish, US and on tape compilations by Best Kept Secret, Italy and Aquamarine, UK. Also a cover of the 1967' hit-single "Arnold Layne" has been recorded for a swedish Syd Barrett tribute album.