LOTS OF EXITING NEWS


[8 June 2001] Sorry everyone, the site was down for a couple of weeks due to a missunderstanding between us and the serverstaff. Now everythings back and apart from this brand new design we have lots of interesting news to tell you about.

BACK FROM A SUCCESSFUL TOUR


[8 June 2001] The first US tour for moonbabies over and the band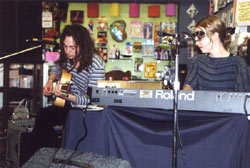 is back in Sweden happy and full of inspiration. Everything went as planned and the shows in America turned out to be a huge success. 12 shows in 4 weeks, including headline slots at bigger rock venues, experimental shows at clubs, instore performances, a small festival, an university gig & at private parties.

We'll post live pictures taken during the tour in the brief future. Most of the concerts were captured on film, mostly thaks to Eric, John and Mike.

And if everything goes as planned Quick-time movies will be uploaded within weeks. Live MP3's will be found at this location very soon as well, as well at www.duckweedrecords.com and at www.blowfishmusic.com

Here's the intire list of live concerts:

Tuesday, April 24, Crocodile, Seattle
Headline slot with opening acts Carrie Biell and Nina Hynes
Friday April 27 Orpheum Records, Capitol Hill district, Seattle
instore acoustic performance
Friday April 27 Gibson's, Seattle
Headline slot with opening acts Crushcoat and The Valley
Saturday April 28 Duckweed Party, Seattle
A private party arranged at the home of Duckweed Records, acoustical concert
Friday, May 4 Portland State University, Portland, Oregon
electronical afternoon concert
Saturday, May 5, (4 pm) Ozone Records, Portland, Oregon
instore acoustic performance
Sunday May 13, Garden Party, Seattle
A private party arranged at the home of the lovely John & Amber
Monday May 14, I-Spy, Downtown, Seattle
experimental and inprovised music night, SILK2 night, with Philip Gayle, Clocked Out & Boris Hauft
Thursday May 17, Easy Street, Seattle
instore acoustic performance
Friday 18 May, Sunset Tavern, Ballard District, Seattle
with Jason Trachtenburg Family Slideshow and Chris & Tad (of Presidents of the United States and Young Fresh Fellows)
Saturday 19 May, Street Fair Festival, University District, Seattle
A short acoustical set on the afternoon
Saturday 19 May, Blue Moon Tavern, University District, Seattle
a two hour farwell concert (both electronical and electronical)
Wednesday May 23, Inkonst, Malmö, Sweden
First gig in sweden since may 2000. With Colubrids.
The whole concept of putting together an exiting concert experience with only two people on stage worked out better than expected. Carina handled the vocals, analog Roland Juno-6 synth and Vibraphone, while Ola took care of the Backround loops, on stage mixing, vocals, guitar, piano and bass.

Some shows included a video screen behind the band which worked out wonderful. For you who didn't have a chance to attend to any of the concerts, here's a setlist of songs played at most electronical concerts:

[* Note most songs were re-arranged into totally differnent versions than on the recorded stuiod versions. "I'm Insane but so are you", "Have you ever said goodbye?" etc.]

Over my Head
Paper bag
Water proof
Have you ever said goodbye?
I'm Insane but so are you
Shining Sun
We're Layabouts
We Still Use it in the Wrong Way
Princess & Princesses
Improvisation
In Our House
Sister Gold


The band is already having discussion with Duckweed Records, about the next US tour, in February/March 2002 most possibly. This summer moonbabies may do a smaller european tour of Germany, Denmark & Sweden. Please get in touch if you want moonbabies to visit your town, they need all the help they can possibly get.
THE NEW EP IS OUT


[8 June 2001] Duckweed Records is pleased to announce the release of moonbabies entitled "We're Layabouts EP". Includes the "June and Novas" favorite "We're Layabouts" + 4 previously unreleased songs.




WE'RE LAYBOUTS EP
Catalog: DUCK0101
Format: CD EP
Tracklist:

1. We're Layabouts [mp3]
2. Cheery Blossoms
3. Blue
4. Olympian Heights [mp3]
5. Happy When Smile

Total Time: 19:09

While "Cherry Blossoms" & "Olympian Heights" pulls the listener into electronical and experimental oceans, the fragile lushness of "Blue" & and the danceable "Happy When Smile" shows up all the best elements of moonbabies. A must-have for fans of the "June and Novas" album.

The titletrack "We're Layabouts" may possibly be released as a video. Stay tuned for future details...


Availble for on-line order at
www.duckweedrecords.com

THE RE-ISSUED VERSION OF "JUNE AND NOVAS"


[8 June 2001] Due to the great response from both fans and critics, and the simple fact that we've sold all copies of the first run of "June and Novas" CD's , Duckweed Records has released an re-issued version of moonbabies' debut "June and Novas". ). The new CD contains new artwork, remastered versions of several songs, some new short instrumental bits, and a new song: "In Our House."




JUNE AND NOVAS
Catalog: DUCK0005
Format: CD ALBUM
Tracklist:

1. I'm Insane But So are You
2. June and Novas
3. Kissing Underwater
4. Have you ever said Goodbye? [mp3]
5. Pianohammers
6. We're Layabouts [mp3]
7. Shining Sun
8. In our House
9. My Buddy Buddy
10. City Walk [mp3]
11. Count Stars >> Be Patient
12. Sister Gold [mp3]
13. We Still Use It In The Wrong Way
14. Winter Broken Time

Total Time: 56:24

[* The re-issued CD comes with a clear jewel case]

Availble for on-line order at
www.duckweedrecords.com
BREAKTHRU MAGAZINE


[8 June 2001] The UK magazine Breakthru feature a glossy 2-page article/Interview with moonbabies [the april/may issue]. Steve Gibbs the journalist wrote [quote]:
"Moonbabies surely embody everything that a modern pop group should be; a divine non-formula to lead us into a future where borders, boundaries and major label contracts exist only to be breached...

...Rules are, of course, made to be broken, and Moonbabies are definitely a pop group with many differences. A duo from Malmo, Sweden, whose DIY album is released through a non-exclusive deal by a non-profit-making, volunteer-run collective based in Seattle, USA, and whose music is, indeed, pop. But not as we have known it. Yet such things come perfectly naturally to Moonbabies. And it certainly hasn't harmed their chances of success: already one of the fastest-rising names on the European and US underground scenes, they have now secured nationwide distribution across America and in Britain for their debut album, 'June And Novas'."

The entire article here

SHORT BITS



[RADIO] Moonbabies made a radio appreance on Swedish Radio [SR Malmöhus] Wednesday the 23th of May. Along with an the interview with Carina and Ola, mostly about the new EP and how the US trip went, they did an acoustic performance of "Princess & princesses" live in the studio.

You can listen to the clip in MP3 format.

[REVIEW] Read a 5 star review of June and Novas in the american ´zine Ear Candy. Who also did and interview with Ola in March, which you also must check out:
http://members.nbci.com/_XMCM/earcandy_mag/moonies.htm
[ANOTHER REVIEW] Read a great review of June and Novas featured in the american paper ´zine The Big Takeover.

Quote: "Sporting a melodic sound so rich, full, and exciting, it's hard to imagine that most of this LP was created by just two people. June and Novas is one of 2000's best releases."


[COMPILATIONS] Moonbabies' songs appears on two cassette compilations very recently released by Best Kept Secret & Auqamarine.

Best kept Secret [Italy] - The label who released the magnificant moonbaby demo collection "Climbing Up These Miles" in 2000, has yet another great tape compilation called "Suspend you disbelief". Features Mercury Spectres [brilliant band from Australia], Flaming June, Ro-robot, Kris Novak, Velouria, Hunnypal, Dimbodius among others. Moonbabies contribution is a brand new instrumental called "Headphone Academy". Listen to a 30 sec clip here [mp3]
The Auqamarine [United Kingdom] tape Bliss 94 includes 2 moonbabies' tracks "Count Stars >> Be Patient" & "Serpentine/Epileptic".

If you're interested in learning more about these labels and/or tapes check out their websites:
http://www.indiepages.com/bestkeptsecret/
http://www.blissaquamarine.net/