Moonbabies are insane
but so are you
Interview by Ian C Stewart, feautured in AUTOreverse 11

Moonbabies kick fucking ass. Whenever I get a new Moonbabies tape or CD to review I never want to give it to anyone else. I want to keep it all for myself. Their blissed-out guitar pop takes me back to the hopeful innocence of the early 1990s, when bands like Ride, Lush, My Bloody Valentine, Kitchens Of Distinction, Levitation, Miranda Sex Garden, Slowdive, The Cranes and Red House Painters seemed destined to conquer the world with distorted guitars and great songs. Instead we got Nirvana. Moonbabies are a pure shot of adrenalin administered to the spine. Their songs marry elements of first-wave shoegazer bands with fresh pop sensibilities, including the occasional drum 'n bass or hip-hop loop in the mix. And like I said, they kick fucking ass.

Ola Frick answers most of the questions, with help from Carina Johansson.

What's up with the name "Moonbabies"?

We chose the name since we're people who quite often write and record our songs at night. The name fits the atmosphere of the music really nicely, the moon represents mysticism and passionate love etc. When did the band form? Carina and I started by singing on the streets of Copenhagen, Denmark 1995. Our voices melted nicely together. Formed Moonbabies in 1996, strongly influenced by Miranda Sex Garden and My Bloody Valentine. We released three demo tapes, which got good response in the Swedish music press. We teamed up with Henrik Thörn on bass and Thomas Lundberg playing drums. We played a lot of shows in Sweden. Released five more demo tapes during 1998-99 which got great response outside Sweden, especially in the US. Tangerine Tapes released Collection Of Demos and Air>>>moon>>>stereo EP came out on Moonkrack Recordings in 1999. We pushed further from the shoegazer/MBV sound with the demo 12 TRK DEMO 1999. Henrik and Thomas left in winter 1999. Another demo compilation was released by Best Kept Secret. Now Moonbabies are a duo but a five-piece unit when playing live. Live members are Marcus Weitner on guitar, Mans Wieslander playing bass and Conny Stade on drums. Duckweed Records recently released our debut album June And Novas.

Side projects?

I started my first band at the age of six. I've since been in ten different bands or more, most of them heavy metal and 1960s psychedelia. I have some other projects besides Moonbabies going on right now. Campo Mondo, with Mans Wieslander, playing mostly low-key acoustic beautiness. Blowing Wish is a solo project which deals with a broad range of music from countryfied lo-fi to instrumental and ambient soundscapes etc. The Blowing Wish songbook is mostly taken from Moonbabies leftovers or vice verse. Hunda Af Idag is an avantgarde music project which has been used for art exibitions in Sweden. Lovely Lads are a totally crazed 60s garage-punk band. Widely known in Sweden for dramatic and destructive live shows. I've also started a musical correspondence with J Mundok, who is also planning to release a Blowing Wish CD on Jack Kettle.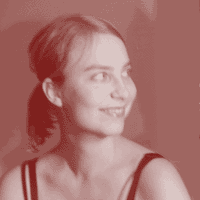 What about you, Carina? What's your story?

Ever since an early age I've been writing songs on a small baby synth and later on the piano and I've put on shows where we always sang Beatles and Abba songs in front of all our neighbours. I wanted to learn how to play different instruments and took lessons for electric organ. I played the drums in a girl-band in the ninth grade and later I joined another band called Scoff. Pretty mean hard punk with a little girl like me on the drums.

Back to Ola. Musical influences: who, when and why?

I grew up with bands like Pink Floyd, Supertramp, ELO, Nationalteatern, stuff my parents were playing at home. I strongly remember listening over and over to a certain mixtape a friend of my parents had given us, with songs like the Clash's "London Calling," The Cure's "Fire in Cairo" and "Goodbye Yellow Brick Road" by Elton John, all of which have been incredibly inspirational to me. The music I heard made such a big impact on me as a kid. I think that stuff underlines everything I still do and think as a songwriter, even if it's not obviously detected in the songs I write. As a teenager I put Iron Maiden, Slayer and Alice Cooper albums on the player and up on the wall. It's hard to say what has inspired The Moonbabies' music the most. The day I first heard My Bloody Valentine everything fell down to earth. This was everything I'd been looking for in music, but didn't know existed. At first we were into sounding just like a mix between MBV and Miranda Sex Garden, and I guess we came pretty close to our goal. But the best thing about that was that we came up with a couple of bloody great songs and we knew that we had something coming our way. I seldom listen to and get inspired by early 90's dreampop now. When I met Carina, she got me into Sonic Youth, The Primitives, Tori Amos, Bjork and Miranda Sex Garden. We're both big fans of Kate Bush, Yo La Tengo and Red House Painters. My greatest source of inspiration often comes from other hometapers such as J Mundok, Grenade, Vinyl Bill, 99cent dream and my bandmate Mans Wieslander.

You have something new out now?

It's our first album and it's called June And Novas. After we made the decision to break away from Henrik and Thomas last fall we realized how much stuff we were capable of doing in the studio without thinking in band terms, which was a revelation. We collected fourteen songs, both old and new, which we thought summed up where we stand today musically. Then we rerecorded, remixed and fucked around with every song in every different way we could think of. I've been in and out of work this last year and I've been pretty productive. We actually started working on this album ten months ago. In January we collected and borrowed studio equipment and brought it down to our rehearsal space, where we've been pratically living since then. We have a coffee-maker, a fridge, a bed-sofa and there is a Chinese store just behind the corner of the street that sells Chechian beer "Very cheap, only for you," what more do we need? Some of the songs were totally redone, like the title track, which we must have spent a hundred hours on! And I'm not fucking kidding! The song begins with a two minute intro piece which took us fifteen minutes to write and record, but the actual song itself was the hardest and toughest thing we've ever worked on.

The great thing about working at home is that you can take as much time as you want and try different things and redo everything from scratch if you want, experimenting with microphone techniques, instruments and coloring of the sound until you're perfectly pleased with it. "Shining Sun," for example, is an old song, from our second demo tape Hey Popsy. Carina and I switched the lead vocals, so now she sings it. We also rearranged the whole track to make it a loopy, slow, mellow ballad type of song. Switching the lead vocal parts, which we often try to do, can create miracles. Some of the songs were recorded on Carina's 8-track portable recorder. They're almost impossible to re-record. "My Buddy Buddy" is one of those tracks. The recording is pretty shitty sounding compared to the rest of the album, but it has a certain raw pure energy and aggression. It's like you almost can hear the guitar being wrecked against the amp in frustration, in classic Pete Townsend fashion.

I find the sound quality on this album as good as any record you go out in the stores and buy. It's quite professional sounding and clear, but never dull, slick or uninteresting. Carina and I played every instrument on the album, except for some tracks such as "I'm Insane But So Are You" and the title track for which we brought in Conny Stade and Mans Wieslander. We also share the songwriting a lot more then we used to. It's great to have the two of us arranging and writing songs together. Before, I wrote almost all of the songs, but now we both feel that having the two of us writing and arranging gives a new dimension to the music. Some of the tracks Carina and I've co-written are the best we've achived, such as "Sister Gold" and "We're Layabouts".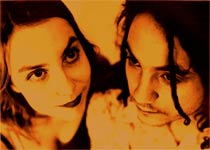 How actively do you trade your music with other artists?

I've been trading quite a lot in the last couple of years. I've come in contact with several wonderful musicians/bands/artists and their music. Like J Mundok, whose Artichoke album has taken permenant place in my head. Any of you who haven't checked out J's music or any projects of his, like Jester's Longevity, must do so. Simply gorgeous. Other artist I've traded with like Madmans Butterfly, Vinyl Bill, Cockerspaniels, Swoon, 99cent Dream and Greenland among many others, are being played constantly. There's a whole world of undiscovered hometaped masterpieces out there.

What music are you currently listening to?

Lately been listening a whole lot to Yo La Tengo. They've become my favorite band. They're the band Moonbabies dream of touring the US with. They seem to be relaxed and gentle people and I know they're huge Simpson's fanatics as well. Steve Reich's Music for 18 Musicans was in the player this morning. It gets me really, really goosebumpy. We've gotten into Quasi too, recently. They're a perfect mix of things, like Elliot Smith and Built To Spill but very often better. I've also finally discovered the greatness of American Music Club, which I've been listening a lot to. I was crushed when American Music Club broke up.

But the real question is: how did you guys feel when you heard that Tommy Lee left Motley Crue?

I cried, then Carina cried, then little Maggie laughed...she's such a little angel.

I knew you guys would be all shaken up by that. How has your band been affected by the MP3 format?

We definitely have made an impact on quite a lot of people through mp3.com as it looks. We receive a lot of positive feedback from people all over the world. Some of them have discovered us through our pages at MP3.com and other free MP3 sites. We've sold quite a lot of albums on MP3.com as well. Still haven't received the paycheck though! On one occasion, one of our songs was featured in the alternative charts, and in three days we had two thousand downloads! That felt kind of cool to know, having two thousand people hearing your music. I think we get an avarage of fifty downloads each day right now from MP3.com, and it's a great way to get people into our music.

Do you have a presence on the web?

Oh yeah. Our official website http://moonbabies.tripod.com is filled with info, sounds, pictures and news. It'll have a facelift very soon with an even prettier layout and cool features. We have some presence on a few free MP3 sites as well: http://www.mp3.com/moonbaby http://www.soundsbig.com and http://www.popwire.com. Also Duckweed Records (http://www.duckweedrecords.com) has great Moonbabies web material along with some MP3s. Duckweed has been a wonderfully supportive and personal forum for us during this last year. One small indepentent label giving artists respect to use their own expression and creativty, which has been a perfect enviroment for us. Unquestionably letting us hold the copyrights to our own music and are totally free from major label philosophy bullshit.

They've released albums by Grenade, Bill Foreman and Moloch, which are fucking brilliant, as well as some rather diverse and quite schizophrenic releases, such as Global Lo-Fi compilations for instance. Highly recommended.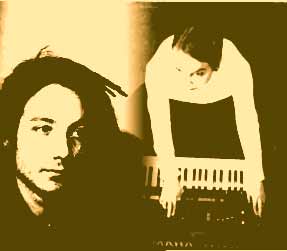 Now for the tough question: favorite XTC album?

I'm embarassed to say that I've never heard a whole XTC album. One of my friends said Skylarking to be the best one.

Embarassed? Bloody hell, I'd be suicidal. Well, at least you lucked out and mentioned Skylarking, so I won't have to kill you now. Do you guys play live?

We've been playing live since 1998, everything from laid-back acoustic shows to big venues in Sweden. We're very much a part of the local music scene in Malmo, our hometown. The sad thing about it all is that most of our fans live outside Sweden, mostly in the US and we're not in the position of having a lot of money to go on tour over there as much as we want to.

The live music climate over here has gotten worse. Alternative no-depression-country and back-to-basics garage rock'n roll is the current turn-on among the Swedish live crowd in general, and our own brand of pop doesn't belong in either of those camps. It's not all bad though. Occasionally we do get great responses from crowds. When we play live we sound a lot more aggressive and raw than on the recordings. I've discovered myself being dangerously aggressive on stage. It brings out a lot of unknown sides of my personality since I'm mostly kind of an easygoing, mellow type of person. I've never actually wrecked a guitar onstage but been close a couple of times.

One side-effect of getting really excited on stage is that, in my case, I always break guitar strings. Ending up having two or three strings left on the guitar for the last couple of songs. In February this year we had a pretty important gig at a big media-music industry convent in Malmo. It was the first gig with the new live members, in a venue bigger than we'd ever performed on before, and I was more nervous than I've ever been in my whole life for the entire week before we went on. The rehearsals went perfectly fine, so I tried to convince myself I had very little to worry about. Well, the night before the gig I only got half an hour of sleep. During soundcheck I slashed my hand against the strings of the guitar so badly that one of my fingers started to bleed heavily, which had me one second from fainting up on stage. My face was pale white and we were supposed to be up on stage in just a few hours. When we finally went onstage I discovered that the sound technicians were unwilling to give me guitar and vocals through my monitor. So most of our vocal harmony interplay got destroyed by me badly singing out of tune since I couldn't hear anything but drums and bass. Then the guitar strings started to break during the second song and since I didn't hear my own guitar on stage most of the songs got wrecked by an out of tune guitar as well. Luckily I had a spare guitar, but during the guitar intro to "The World Is Loaded," another string broke and so the whole gig went. I think I broke a total of five strings during our thirty minute set, and afterwards when I told some of the audience about the ordeal, they said they didn't hear any bad singing or out-of-tune guitar! And after hearing the tape I kind of agree that the gig went okay after all. Had I known all of that while I was onstage, it surely would have eased my pain. The last shows we've done have gone great though, due much to the fact that we now have a 2nd guitar player in the live band.

Breaking strings onstage has got to be one of the worst things ever. Period. Worse than caffeine free Diet Dr Pepper! What kind of home studio stuff do you have?

All our previous demo recordings were recorded on Carina's Yamaha 8-track portable studio. I heard that Robert Pollard bought himself one of those and I know for a fact that Sean Padilla aka The Cockerspaniels uses the exact same one. The most important equipment we've used has been the 8-track, one big Sennheiser microphone and a Berringer compressor. We still use them. For air>>>moon>>>stereo e.p. we borrowed an ADAT. And for June And Novas we used a 16 trk ½ inch recorder and a computer, plus the 8-track. The programs we use for editing are Sound Forge for effects, equalization and mastering; ACID for loops; and Cool-Edit Pro for multitracking. Cool-Edit works as a basic recorder. Not very complicated and it works really smoothly. ACID rocks in a great way, it's an easy way to get your ideas heard just in a couple of minutes and it helps your fulfill your dreams. In the end it's not important to use expensive equipment, it's just to learn and train your ears to the stuff you have. We borrow most of the instruments and recording systems from friends. Would love to go into a professional studio someday, but we're hometapers at heart and in the end I don't think we can sound better than we do producing ourselves in a home studio.

I can't argue with that. The production on June And Novas outshines many major label releases. But ultimately, what are your feelings on Dr Pepper?

Oh, he's funny.

Did you guys use any different instrumentation this time out?

Most of the stuff we've recorded on belongs to friends and friends of friends. Wish we had more money, but hey that's not the case. I used a vintage Fender Jazzmaster and a Telecaster for the electric guitar parts. Carina uses a fantastic early 80s Casio which we've used a lot both in the studio and live. The space sounds and car-horn tones on "Have You Ever Said Goodbye?" for instance comes out of that little funny plastic Casio. She also playes a vintage polysynth on some of the tracks, also some piano. I play some organ and analog synths too. The drums and bass parts were played and sampled by me for half of the tracks on the album. Conny Stade hits the drums both more technically and more professionally than I do, so we used him for some of the songs which demanded a tighter rhythm section. He's one of those living drum machines.

One other important and often used instrument on June And Novas is xylophone. We used different types of xylophones, from a big orchestral one to small toy ones. That has definitely colored our recordings recently, and you don't have to be very good at playing it, it sounds cool even when you're hitting the wrong notes.

I think the new album differs a lot from our previous releases. First, Carina and I have grown as songwriters and both of us write the songs now, which definitely has made the music more unique and diverse in many aspects. The dreampop/shoegazer influence hasn't left our sound entirely, but I guess now we use the influences in a more sparse and fulfilling way. It's one of those things that I guess was bound to happen. It's not as guitar-based and introverted as it used to be either. The use of computers and loops has given us more opportunites to create all new kinds of soundscapes and moods. The more experimental songs like "Kissing Underwater" and "Count Stars >> be patient" from the new album are a mixture of a thousand things, and I think this makes them stand out as something completely fresh and interesting, where the drum kit is reversed, looped and distorted in abrasive hip-hop/breakbeat fashion but the vocal melodies and guitars are still sounding very Moonbabies. The album has the sub title "easy pop beats and electronical underwater moods" which I guess is a good explanation.

Hmmm yes, it all makes sense now. And I do know the Casio you mention Carina using. (see "Pissy Casio" elsewhere) Really though, how do you feel about Cathy Dennis? ???

Sorry, she's totally unknown to me, or most of us Swedish folks I guess. It would be the same thing as asking you what you think of Ulf Elwing?

Well, obviously Ulf Elwing beat out Torfi Olafson on ESPN's World's Strongest Man competition in 1996. But Cathy Dennis! Come on and get my love! You guys should've put a picture of her on the cover of June And Novas.

Actually, we got the opportunity to get this album professionally printed in full-colour with a 16-page booklet, which is a wet dream for a graphic design freak like me, and one hell of a challenge. The front is a double-exposed photo of our faces under a gentle dark-brown blurry shimmer. You've got to look through the whole CD booklet to get the whole artwork concept. It all goes through gold, brown, red and yellow colors and contains some recently taken band photos, some graphical design ideas of mine and a couple of pictures taken by a photographer, Martin Bergstrom, during a New York visit of his. I like the fact that the cover perfectly matches air>>>moon>>stereo e.p.

Tell me you at least watch The Young Ones. Please.

The Young Ones never got broadcasted here in Sweden. I remember watching it on cable at a friend's house a lot of years ago and it was pretty hilarious.

I know Moonbabies are all huge KISS fanatics. What's your favorite KISS album?

Not a huge KISS fanatic. Destroyer and Alive are the only KISS albums I've ever owned. Destroyer is a great record.

What's the Moonbabies Plan For Global Domination?

We've never put up any actual goals for Moonbabies, really. But we're dreaming of such things as having our music distributed and released in all corners of the world, touring Europe and America someday, earning enough money on music-making without selling our souls to a major label and maybe most importantly, to do the theme song for a Simpson's episode some day.

What's your favorite Duran Duran song?

Hmmmm... "Rio" is good. Funny, here I'm getting questions about KISS, XTC and Duran Duran whom I have very little, or pratically no relation to. Please make me an XTC mix tape, and send it over to me right away. I'm getting interested and all, everyone's nagging about them. I think I will go down to the store and buy a 12-pack of Dr Pepper as a tribute to you.

Hey, that's not a bad idea. Get ripped on DP and crank up some XTC, KISS, Duran Duran, Cathy Dennis, Daft Punk and Gary Numan beeeyaaaatch!